Canyon Hills Havanese Puppies in Florida
We have available a Male and a Female that are totally trained and need to be placed in the right forever home.  The owner is now ill and cannot keep them. They are 8 years old and would be perfect for a senior.  The two are to be placed together.
PUPS  are here, beautiful dark chocolates and many other colors.  born 5/11/2023 … Now taking Deposits!
PUPS that are available now are Pictured in the Nursery LINK on the left of the page.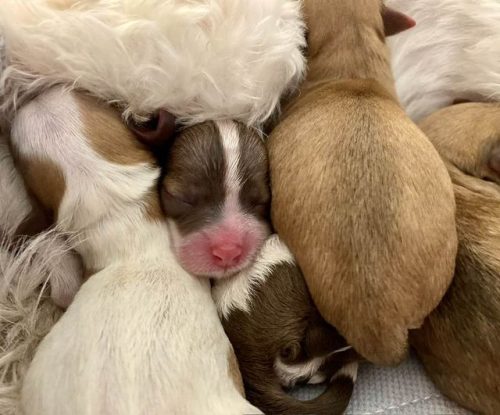 Taking Deposits now on the two litters listed below.  Chocolates, 
Chocolate and White Parti's and Red and White Sables.
Sissie is bred to Montel,  
Pia Bred to Rikki 
Please call if you would like to place a deposit to hold.'
One of the oldest Havanese Breeders of the Havanese in Florida.  We breed for quality not quantity.   Showing and breeding is our hobby, not how we make our living.  All Havanese are in the home.
941-220-7070  or  941-488-9095
ALL breeding dogs are health tested for genetic problems.  Our Lines are less than 14 % on the scale of 100% related to each other… meaning we have done a great job at making sure we are not inbreeding or Line breeding.
————————————————————————————————————————
Havanese Puppies for Sale in Florida, Naples, Tampa all cities in FL.  We have Havanese Puppies in South Florida.   We also can ship to Michigan, from Detroit, Lansing and Grand Rapids.  We own a business in MI and do travel to those locations.
AKC Champions – Health Tested 
Please read our Contract.  If you place a deposit, you agree to the terms of our contract.
We are not a Kennel, providing the best health and socialization, Havanese
Puppies are raised in our homes, with lots of love and attention.
Canyon Hills Havanese puppies in Sarasota, Tampa, Miami, Naples Orland, we also have many of Havanese puppies in the Villages in FL.  You are all welcome to come and visit our pups. Chocolate Havanese Puppies are born here often.
One of Florida's oldest Havanese Breeders, Havanese puppies for sale in Florida, Florida Havanese breeders, Havanese Puppies, Havanese puppies for sale, directory, Havanese Puppies in Florida can be seen in our home.  Florida Havanese Breeder,
Florida Havanese puppies available soon, we do ship Delta Pets First.   
A new dog…and scammers' old tricks | Page 3 | FTC Consumer Information

We are one
of the oldest Havanese breeder in the United States.


  AKC

    Havanese Puppy Love at Canyon Hills!

We health screen our breeding
dogs, every pup buyer deserves a healthy puppy. We are dedicated to
making sure you will get a healthy and happy puppy.

We are Noted for our Dark Chocolate and Chocolate and White Parti Havanese Puppies.
 

We have been breeding and showing the Havanese for many years and we are known for our deep dark Chocolate Havanese pups.

We accept Zelle payments and Personal Checks.

Also, USDA inspected.

They are raised in our living room, where they get lots of attention,
hugs and Attention.

We look to provide your family with the healthiest pet possible. We
work closely with the MSU small animal clinic and our Vet's
to ensure our dogs are genetically sound.

Our adults meet the AKC Havanese breed standards for conformity,
temperament and good health. (remember all the testing in the world does not
make up for poor breeding and unclean living conditions)

Pups are socialized and come to their families pre-loved.

Pups and parents enjoy our home and securely the fenced yard.  The
puppies are our little family members.


We have eight
Generations of wonderful Havanese dogs and  Havanese show dogs.

This is our Loved Champion Ryder.  He was beginning or our breeding

such beautiful dogs.
Dr. Nelson has been taking care of our dogs for years.  She knows

all of our lines and knows how we love and Care for our dogs.

You are welcome to call Dr. Nelson about our references.
A little about me.  I started breeding at the age of 16 my father

made me spend my own money to purchase a breeding pair of  Miniature

Cream Poodles.  We had great family fun breeding these pups.  It was

a great lesson on how each animal should be loved and cared for.

I lived by an older Lady that Bred and Showed Yorkies, She had

Winner Ribbons all over her walls.  I just wanted to be just like

her and Have the best dogs.  She was my inspiration.

My father was a builder and when they would tear down a building he

would find Pigeons and other animals that he would bring home for us

to raise and care for.  We had a wonderful Animal family.
One of Florida's oldest Havanese Breeders, Havanese puppies for sale in Florida, Florida Havanese breeders, Havanese Puppies, Havanese puppies for sale, directory, Havanese Puppies in Florida can be seen in our home. Florida Havanese Breeder, Chocolate Havanese puppies, Havanese puppy. Michigan Havanese Puppies delivered to you is a possibility.